At the Cutting Edge: A New Drone Innovation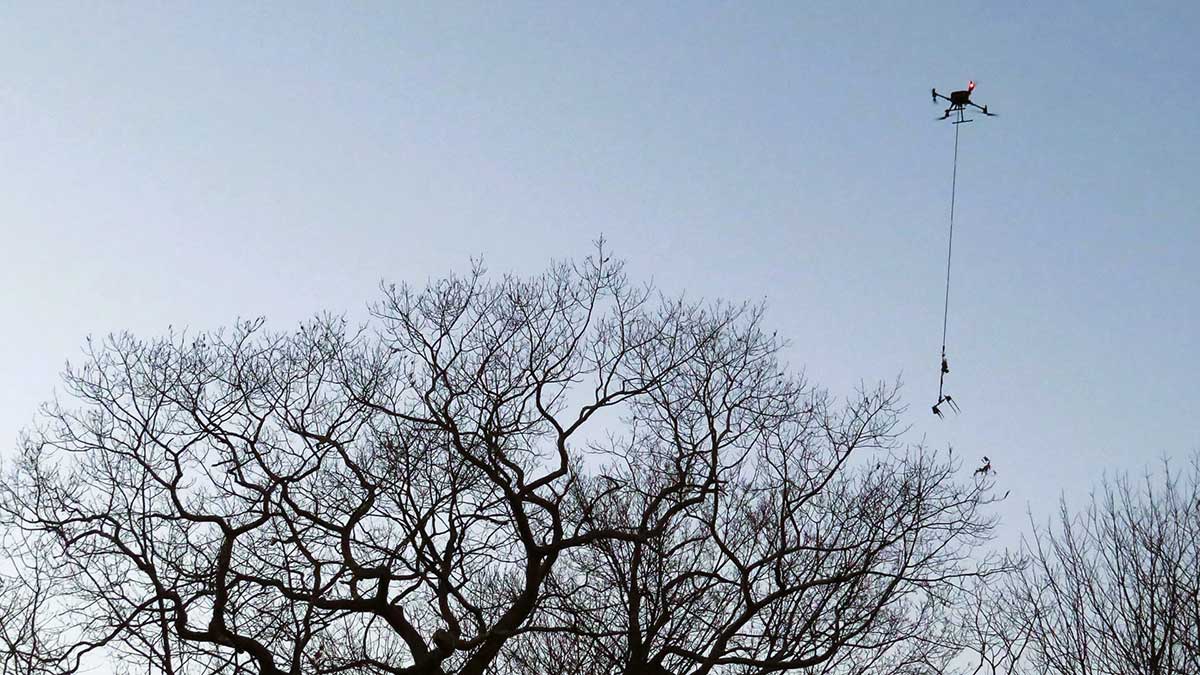 After five years enduring a rain of toxic hairs from browntail moth caterpillars, Sally Donelson is ready for a novel solution. She has to suit up at her family's lakefront camp in Litchfield — duct-taping gloves and socks to minimize exposure and showering as soon as she returns indoors.
Donelson is concerned that their infested oak trees could die due to repeated BTM defoliation, as trees have on nearby properties. Last winter, a licensed pesticide applicator treated their oaks, but it didn't seem to help. She recalled: "I've never seen so many BTM caterpillars."
This winter, Donelson's getting help from on high — from a drone carrying a robotic attachment with a rotating saw blade to sever branch tips with BTM webs. She is hiring arborist Eben Mann, of Mann's Lumber and Tree in Litchfield, to use his newly acquired drone tool, developed by DeLeaves, a small company in Sherbrooke, Quebec, that designs drone-mounted branch-cutting equipment. The robotic attachment, already used by numerous university researchers for forest sampling, resulted from three years of design work and multiple field trials.
Mann is the first person in Maine to own this drone attachment, which could — and should — become more widespread to reduce BTM impact without using pesticides that kill a broad spectrum of species.
Oaks, one of the trees BTM prefers, support more than 800 caterpillar species, entomologist Douglas Tallamy writes, and those insects in turn feed the young of countless bird species. In his view, oak is the most essential native tree species.
BTM caterpillars, an invasive insect from Europe, are not eaten by Maine birds, which is partly why the moth has overtaken 200,000 acres. Climate change is likely hastening its spread because the state has had fewer cool, damp springs that favor the growth of a fungal pathogen deadly to BTM caterpillars.
While drones can't eliminate BTM, these low-impact devices — powered by rechargeable batteries — hold promise to help protect high-value trees in critical locations around homes and businesses, and in municipal parks.
To realize that promise, more experts need to demonstrate the enterprising and collaborative spirit that helped ordinary citizens bring this technology to Maine. In a time of rampant ecological disruptions, their story provides a powerful reminder that local initiative can give rise to valuable solutions.
'Like a dog with a bone'
Recognizing the environmental harm of applying pesticides and cutting oaks in response to BTM, Anita Brosius-Scott of Camden was on the lookout for a better fix. When she learned about forestry uses of drones in 2019, she recalled, "I went after it like a dog with a bone."
Brosius-Scott contacted experts at MIT and Cornell University about collaborating, and reached out to Maine Forest Service staff and University of Maine researchers. She came to realize that "researchers work on very different time frames than anxious property owners."
When Brosius-Scott learned of the DeLeaves' forest-sampling tool, she sent them background information and wrote: "We have a big problem. We need your help." But a visit to Maine by their engineers was delayed when the border closed due to COVID. Only in December 2021 were they able to come show local residents how their device worked.
One person helping host their visit was Tom Massey of Rockland, a licensed arborist and UAV (unmanned aerial vehicle) pilot who runs Active Intelligence, a drone mapping and photography company. He was game to learn more about the cutting device the second he heard of it.
Friends had already shared "a lot of weaponized ideas" about drone control for BTM, from flame throwers to plastic BB pellets, he recalled, without realizing that it's "highly illegal to weaponize drones." He watched videos online of the DeLeaves tool in action but wasn't sure it could work fast enough for an arborist to make it economical.
Using the drone-mounted robotic tool at the demonstration persuaded Massey that "in rapid succession, you can effectively and efficiently remove an infestation in trees." For an experienced drone pilot, he added, "the learning curve was almost nothing."
The DJI Matrice 300 drone used in the demonstration has self-heating batteries that can work in the winter, the ideal time for web removal. With the robotic tool in place, it can operate for about 35 minutes before needing a fresh battery. Massey was convinced that it could be cost-competitive with mechanical clipping from bucket trucks.
The demonstration also persuaded Mann, who also had heard about DeLeaves, that it was time to get his drone's license, buy a drone and order a cutting tool.
"I've made plenty of leaps before," he said. "I'll take a leap of faith and see what happens." (Since notifying clients of his drone-clipping service, Mann has received so much interest he may buy a second tool for an employee to use.)
The demonstration sparked creative thinking at DeLeaves, incubated in Sherbrooke University, about how to refine its tool to better address treetop caterpillar web removal. Maine, it turns out, isn't the only place with a "big problem." DeLeaves engineers will soon head to France, where the pine processionary moth causes similar skin irritation and tongue necrosis in dogs.
Guillaume Charron, the co-founder of DeLeaves, said the hope is to find more partners like Mann in Maine to provide feedback on the tool's use with BTM. "It's all experimental at this stage; we are happy to collaborate," Charron said.
Adopting 'disruptive' technology
What's not to like about an innovation that's environmentally benign, potentially cost-competitive and made by a small company eager to have its product help people?
A staff person at the Maine Forest Service described the drone innovation as "kind of a difficult topic," and said that neither federal nor state funds were likely available to help advance the technology.
A university expert said it would not be "commercially practical or feasible," adding: "I don't see it being a cost-effective solution in the short or long term" and "it's unlikely the (arborist) industry would adopt this."
Several people signaled that this drone tool should be pursued only if private companies are willing to invest. But isn't the role of government and land grant universities to support research and development, helping early prototypes advance to a point where larger-scale production becomes economical and feasible?
There was no "dog with a bone" enthusiasm here.
But the director of Maine Technology Institute, Brian Whitney, expressed excitement and indicated that MTI could potentially lend support and collaborate with Maine-based businesses.
And Jarlath O'Neil-Dunne, who directs the Spatial Analysis Laboratory at the University of Vermont and works with the USDA Forest Service on research, saw this as a "huge" and "exciting" advance to help residential landowners.
Even if the capacity of drones is confined to "single-digit acres," he noted, they're a "disruptive technology" that opens up new ways of doing things and capacities that weren't possible. They can go where bucket trucks can't, for example. They're never a "saving technology," he said. "They are just one piece of the solution."
For thousands of Maine residents like Sally Donelson, that one piece could restore livability to settings they love and protect trees they treasure.
"We should commend the companies and individuals who are pushing the envelope," O'Neil-Dunne said. "Someone's doing something neat and innovative. Let's support that."
© Marina Schauffler, 2022. All Rights Reserved. Column reprints available upon request