Strength Through Sharing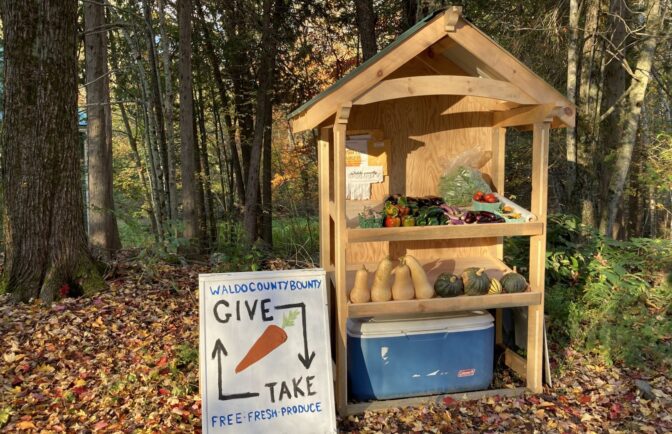 Battery-powered mowers and hedge trimmers at the new South Portland Electric Tool Library (SPETL) are checked out almost as soon as they're returned. Demand is high among local residents for fume-free and relatively quiet yard equipment that lowers carbon emissions.
The SPETL grew out of One Climate Future, a planning document jointly prepared by the Cities of South Portland and Portland to foster climate resilience and cut carbon pollution. One way to realize those goals is by sharing resources, tools and services — eliminating, in the plan's words, "the precedent that every individual or household must own their own items." Using the public library model, the SPETL offers free access to yard appliances that are literally checked out using library cards.
A $16,000 solid waste diversion grant from the Maine Department of Environmental Protection funded the SPETL which is among Maine's first equipment libraries (others include a membership-based tool lending library run by a Portland nonprofit, and a shared-use program for farm equipment administered by the Maine Organic Farmers and Gardeners Association). The SPETL has already sparked inquiries from several communities interested in replicating its electric tool-sharing model.
Creating a stronger network
Maine has "a distinctive culture of thrift and reuse" with varied means of resource-sharing, observed Brieanne Berry, an environmental studies professor at Ursinus College in Pennsylvania who spent years researching that culture doing doctoral work at the University of Maine.
Small investments made in fostering a reuse economy can provide great dividends, she noted, helping people access what they can't afford and fostering what researchers call "social capital," a network of relationships that studies have demonstrated strengthens community resilience when disasters hit.
"As we face more ongoing disruptions," she said, "these ties with neighbors are increasingly important."
Whether due to its rural nature or to Yankee thrift, "Maine has a strong reuse economy relative to its size and population, and relative to other states," Berry observed.
"Thinking about materials as resources is enshrined in policy," she added, from Maine's enactment of a bottle bill in 1978 to its more recent leadership in extended producer responsibility (EPR) legislation.
With more state support, local communities could strengthen the informal networks of sharing that lend us collective strength. We could model our communities after the forested landscape we live in, which relies on complex subterranean exchanges.
Trees depend on mycelial (fungal) networks in the soil to share information about threats and to support one another. While trees have evolved these sophisticated exchanges over eons, we need to organize stronger human networks posthaste. Given climate upheaval, economic disruptions, pandemics and dwindling resources, more shocks lie ahead.
Sharing fresh produce locally
Maine already faced widespread food insecurity when the COVID-19 pandemic struck in 2020—creating havoc in markets and supply chains and worsening the plight of families in need. One regional response, a hunger relief effort called Waldo County Bounty, managed to tap almost instantaneously into the productivity of Maine's strong gardening culture. The group decided to establish "give and take" tables where those with abundant gardens could freely share surplus produce.
Vina Lindley, a food systems professional at University of Maine Cooperative Extension (UMCE), recalled how the program took off with almost no publicity. She set up a table outside the UMCE office with a large sign and went inside to grab flyers. By the time she returned, there were already donated cabbages sitting on the table.
Produce comes and goes so quickly that few sites require coolers, except in the hottest weather. The tables or "share stands" (more farmstand-like structures) now number 16 county-wide, in visible locations with easy parking and often round-the-clock access.
"They're community-led, community-driven" and are kept "Maine-style: pretty low-tech," Lindley added, so program costs are low. Needed materials were largely donated, from the lumber to the signs painted by art program volunteers.
This year, spring seedlings were offered at stands and tables, and seeds were given to gardeners willing to supply produce throughout the growing season.
"Give and take" stands are an easy model to replicate, Lindley said, one among many food-sharing initiatives now operating around Maine, including UMCE's "Harvest for Hunger" program and a growing number of "community fridges." In her words, "growing your own is absolutely a way to be more resilient in the face of all sorts of changes."
Expanding Maine's network of furniture banks
Maine has a reputation for being "the attic of New England," with a plethora of thrift stores, yard sales and flea markets. But another source of recycled goods is often overlooked: "furniture banks" that operate like thrift stores without monetary exchanges — providing free access to furniture, kitchen wares and small appliances. They're a vital resource for people forced to start life over, such as those leaving shelters or prisons, victims of fire or domestic violence, and immigrants.
The first two furniture banks in Maine formed more than a decade ago and a half-dozen or so operate now — nearly all of them volunteer-run, according to Christopher Olsen, a real estate agent and the founder of Welcome To Housing in Old Town.
It takes little to establish a furniture bank, Olsen added, just "a space [an owner] can't make money off of and can write off." He plans to reach out to regional associations of real estate agents around Maine, hoping to spark formation of new banks in settings like Skowhegan and Belfast that are far from existing furniture banks.
Given the potential for more storms, fires and disruptions in the future, furniture banks should multiply before needs intensify, Olsen believes: "When there's a disaster, it would be nice to have a resource to turn to."
If furniture banks within Maine were better networked, they could share and redirect resources around the state in response to disasters. A shared inventory system could also help ensure that no donations go to waste (when, for example, trucking companies volunteer to bring to Maine furnishings from hotels undergoing upgrades elsewhere in New England.) Olsen envisions Maine ultimately having a network of furniture banks operating "so smoothly that we can share that knowledge with other states."
Building resilience
Maine could indeed take the lead in demonstrating the benefits of a sharing economy for household security, climate resilience and waste reduction. It's a step that would take minimal capital investments and could create a powerful reservoir of good will. People who receive help through these programs are often committed to "pay it forward." Many volunteers at Welcome To Housing, for example, are people who received help from the furniture bank in the past.
State grants could support local sharing initiatives, but Berry noted that Maine also needs a "navigator" position to help volunteer groups apply for state grants.
It's important to recognize that traditional economic measures don't begin to capture the far-reaching benefits of a sharing economy, Berry observed. These exchanges cut waste and carbon pollution, build trust, kindle community and foster resilience.
In a world of intensifying disruptions, those values will be of immeasurable worth.
© Marina Schauffler, 2023. All Rights Reserved. Column reprints available upon request.